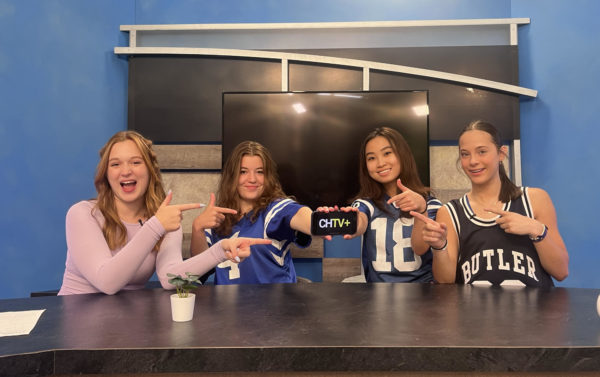 CARMEL, IN – Starting today, anyone with a YouTube account will be able to join CHTV+ and help support the next generation of journalists and filmmakers.
CHTV+ offers people a new way to contribute to this vital program like never before. CHTV+ will offer many benefits to members such as a free sticker pack¹, access to a new merchandise shop², early access to CHTV content, and birthday shoutouts on the newscasts. Members will also have their names featured on the CHTV website and at the end of all of the newscasts. This service will be seamlessly integrated into the existing CHTV YouTube channel through the use of YouTube Channel Memberships. Using this, CHTV+ members will also be given access to custom membership badges and emojis. 
"I am beyond thrilled that we are finally able to launch this brand new loyalty program. When we first announced our plans to create CHTV+, we were met with a positive response and I look forward to seeing how people respond to the final product. So much time and effort has been put into CHTV+ and I am so glad that we can finally share it with CHTV fans and alumni." said Jack Ringenberg, one of CHTV's Station Managers.
CHTV+ will launch with two pricing tiers. Both tier prices pay homage to old CHTV channel numbers. The first tier is CHTV+ Standard. This plan is around $21/year and features everything mentioned previously minus the sticker pack. The second tier is CHTV+ Deluxe. This plan is around $99/year and features everything CHTV+ Standard has, with the addition of a thank you video and sticker pack.
"With the money raised, we will be able to update our older and broken equipment, keep our station running, keep our award-nominated website up and running, and so much more!", stated Ringenberg.
To become a CHTV+ member and have access to CHTV+'s benefits, users can simply go to CHTV's YouTube channel (https://www.youtube.com/@CHTVCarmelTelevision) and press the new "join" button. After you join, you will be able to fill out a short form to ensure that you have access to all of the benefits of CHTV+.

About CHTV
CHTV (Carmel High School Television) is a completely student-run television station that was started in 1978 by Hal Espey. The program is currently supervised by Brandy Ostojic. CHTV is a media elective class that is a part of the communication department's Greyhound Media Network. It runs from freshman year to senior year and it is the core of everything Carmel High School – news, sports, and entertainment stories. Every SSRT (except late starts) CHTV will live stream a newscast to get you up to speed. Not to mention they cover events and sports games.
¹CHTV+ Deluxe subscription required
²Coming early next year
---
CHTV SVP, Website Development
CHTV Press Helpline